Japan : Webmaster's Map
"Webmaster's Maps" are outline maps with coordinates for imagemap. They help you to publish web contents about Japan.
Feature & How to use
How to Save Maps ?

Hold down the right button of your mouse on graphics and select "Save As".

Divided into Provinces

Territories are divided into provinces. So you can easily color each provinces.

Compact & Dense

Because Japan is so spreaded country (south to north, west to east), the map is partly pressed, partly enlarged, and twisted. South-West and Ogasawara Islands are divided from other part of the country. The map is compact & dense though it's far away from reality.

Sample of Use
720 pixels width x 380 pixels height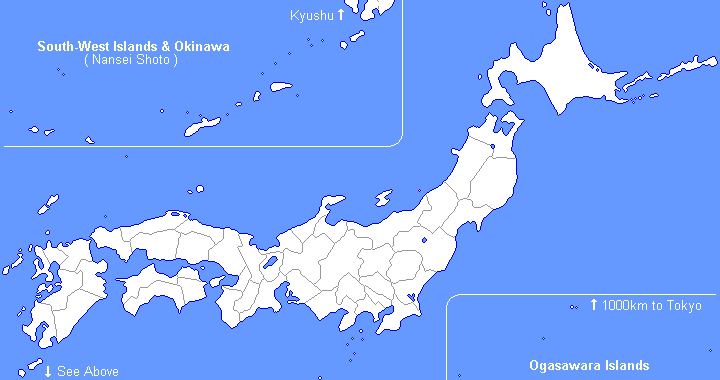 File Name: w720jp.png

Japanese Territory - White (#ffffff)
Water Surface - Light Blue (#6699ff)
Coastlines - Blue (#0000cc)
Provincial Borders - Grey (#999999)
Explanation - Ivory (#ffffcc)
Coordinates for Imagemap
Please change the value of links & alternative texts.
coord720i.txt: (ISO-8859-1)

Written in Latin alphabet.

coord720u.txt: (UTF-8N)

Alternative texts are written in Japanese.

coord720j.txt: (SHIFT_JIS)

The most typical character set in Japan.
Terms of Use
These files are offered as linkware. You are required to create a link to this website.
Examples of HTML code

<a href="http://japan.areastudy.net/imagemap.html">Japan: Webmaster's Map</a>
<a href="http://japan.areastudy.net/">http://japan.areastudy.net/</a>
<a href="http://www.areastudy.net/">areastudy.net</a>
It is not always necessary to creat links on same page where graphics are used. You may create links on any page of your website (e.g. in reference links). But the page must be open to the public.
Do not redistribute these files. Only for use in your own website.